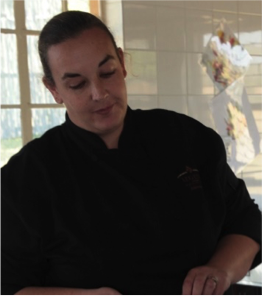 Miss/Chef Els is one of our greatest and most motivational personnel at Legend Hospitality School. Jolene has been with LHS since July 2009 and is not only the most Senior Lecturer and Chef, however is known as the Mother of the school.
Her journey and her passion for food started in 2001 where she made the decision to follow her passion as a Chef. She is truly a one of a kind!
Our staff and students agree that there is no one else like Miss/Chef Els in this world. She travelled and worked abroad and has had the opportunity to work in many different types of kitchens, Hotels and restaurants. She has gathered a wealth of knowledge in the time she worked within United Kingdom as a Executive chef. Miss Jolene Els has also had the experience in teaching at various Faculties and Training Institutions and over the years has taught hundreds of young enthusiastic chefs and hoteliers to tap into their talents and follow in her footsteps.
As Miss Els's most famous quote, "Nobody gets left behind!" she has made an impecable mark on the growth and achievement of Legend Hospitality School as well each of the students that have studied with us. As with each challenge and the growth and success of each of our students, Miss Els has succeeded year after year and only escalated her passion for the Hospitality and Culinary Industry as she gets her inspiration and passion and from her successors.
Miss Els has the softest heart yet the stearnest ruling in her kitchen, she has the ability to bring out the best in people and hones in on every individuals strengths in order to prove what they are capable of. She has become a role model to many, who aim to become great Chefs like her! Chef Els gives of her time whilst on and off duty and always has time for everyone even though she is always busy, she's always there when you need her.
She has been described as one of the wisest and most talented women and each of our students would vouch that she takes grasp of a spot in everyones heart!
Although she might seem intimidating and tough (especially when fully kitted out her Chef Whites), she maintains a stearn yet gently nature to her workings. Once you've Chef Els you, there is great pride in knowing her and sharing in her knowledge as her passion naturally spills over to you.
On behalf of all LHS students and staff, she is one of a kind. She is the reason for the success at Legend Hospitality School.
Thank you… Miss Els, Chef Els, Our Mother, for your dedication, passion…